One thing anyone with a new ukulele (orany new instrument for that matter) worries about is damaging your new baby.
You kit them out with polishing cloths, and you purchase creams, sprays and other cans of goo to keep them shiny.
But really though, an instrument is just a tool, and what does a showroom finish say about you. Perhaps it shows that you don't play it too much.
Don't get me wrong, if I owned a $2000 custom uke, I would be mortified when it took a 'ding', but after that first one?
Playing any instrument for a length of time puts wear and tear into it. You may get some strumming wear if you play vigorously like me. If you start to gig with an instrument, and certainly if you play it on a stage, eventually you are going to knock it, ding it, chip it. It WILL happen. You will hate yourself (or the buffoon that caused it), you may even try and fix it up. But I say, stop, think about it. If you love your instrument, and you want to keep it for life, those dings and scratches tell a story. Each scar and chip remind you where you were when it happened, hopefully bringing happy memories.
I have a nice cedar acoustic guitar in my collection that has been played so much the wood around the sound hole is seriously worn down. That wear shows me how much I have loved playing the thing. It also has a chip on the headstock, and I know exactly when it happened (from a very happy memorable playing session with friends, again, good memories). If you want to take it to extremes, do a google search for Willie Nelsons guitar and wonder how the thing is still held together. Would he change it? Not a chance.
I'm not telling you to go out and play rough with your ukes, just don't get too down if you scratch it!
And to show you what I mean, and why I blogged this post, say hello to the soundboard of my Fluke. I've been gigging this so much lately that I am through the paintwork. It's where I rest a finger when picking (poor technique, but there you go) and shows how much use it gets!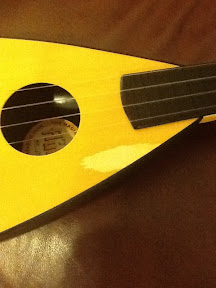 - Posted using BlogPress from my iPad