How time flies. It seems like only yesterday that I finished pulling my ukulele beginners book together, but today is the 6 month anniversary of it being published
In that time, 'What Ukulele Players Really Want To Know' has gone down rather well!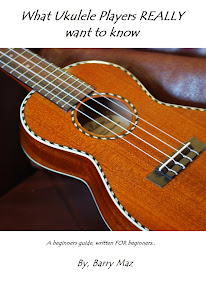 The success has really taken me by surprise, and it's consistently charting well in the Kindle store (and actually reached number 3 in the music book chart on both sides of the Atlantic!).
My huge thanks to those who offered guidance in pulling it together, and getting the formats right, including the wonderful Kindle Writers group on Facebook.
Thanks, obviously to those who grabbed a copy, and especially to those who left kind reviews. The emails I get from the odd reader are also very kind and appreciated. I hope the book continues to help inspire and support the ever growing army of new ukulele players out there. And who knows, I may have another book coming along later in the year! (shhhhhh!)
Kindle users can get the book here
Amazon US
and
Amazon UK
Other ereaders are catered for at
Smashwords
And as ereaders are not for everyone, it's in paperback too!
Paperback version
Thanks again!
Baz
- Posted using BlogPress from my iPad